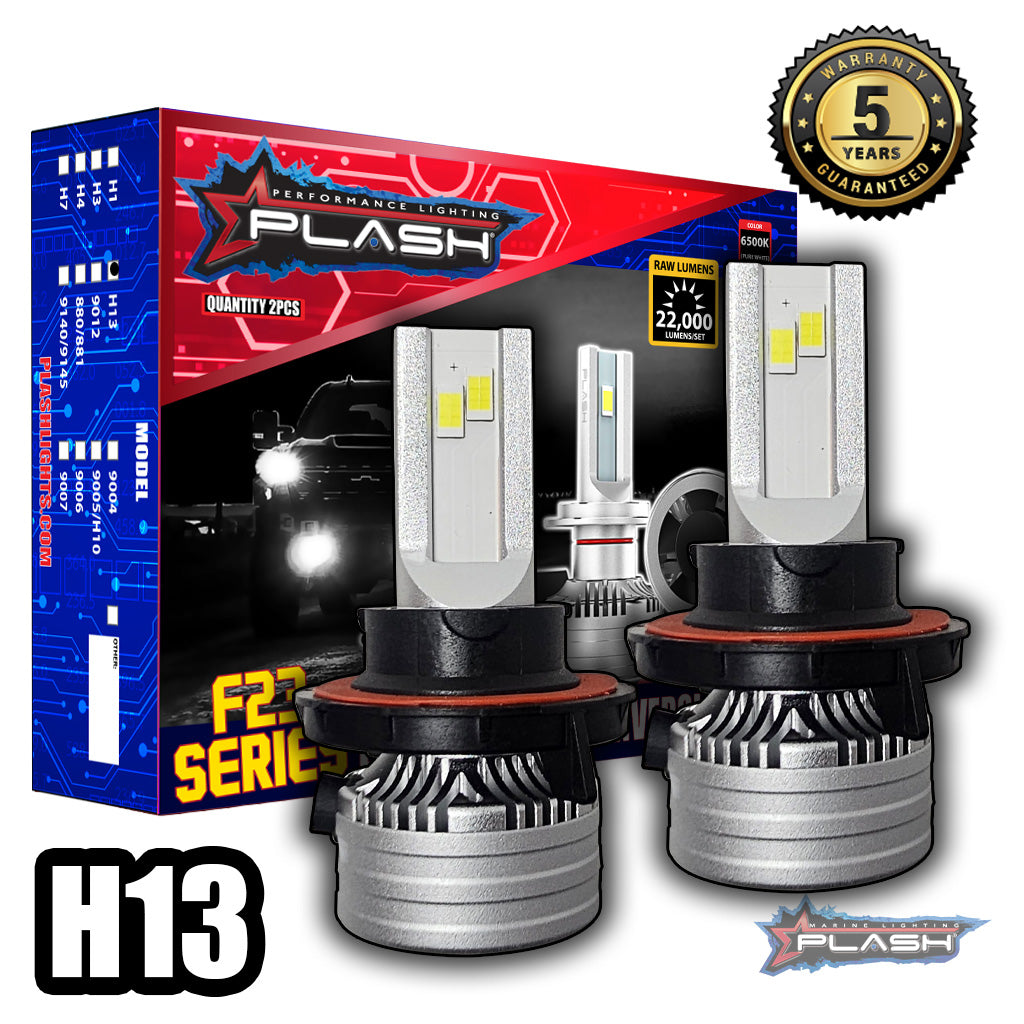 SKU: HL-F23-H13-2PAIRS
F23-Series High Output LED Headlight Conversion Kit | H13
---
We are proud to offer our newest LED automotive headlight model.  The F23 Series High Output LED Headlight Conversion Kit is a one for one bulb design making fitment  a non-issue.  The F23 Series bulbs are engineered to be brighter and run cooler than our previous models.  Assembled with a copper vacuum tube these bulbs conduct and move heat to a large 32MM fan faster and more efficiently allowing our bulbs to be brighter and last longer than others on the market.
High Output LED Headlight Conversion Kit for Automobiles. 22,000 Lumens Per Pair/ Set. 90 Watts of Power Per Pair/ Set, Rated for 50,000 Hours of Operation. Our Crisp and Clear Lights are for Off Road Use Only.
This H13 style bulb is perfect for 2017 and newer Ford Super-Duty and the JEEP JK! As a matter of fact we designed this H13 LED conversion kit specifically for the new 2017+ Ford Super-Duty headlight housing.   All other LED headlights will be very splotchy and create intense hot spots and dim spots.  This is not an ideal beam pattern.  Not ours!  Our F23-Series LED bulb will provide even light output that will be brighter than the OEM offered LED package!
FEATURES
Plug and Play - Easy Install

Copper Vacuum Rod and Turbo Fan for Superior Thermal Transfer and Dissipation
Raw Lumens: 22,000/Total (11,000 Lm/Each)
Best Beam Pattern: No Glare + Crisp Cut Off Line
Stable Design Provides Over 5 Years of Continuous Usage
Operating Voltage: 10~24V DC
Wattage: 90W/Set (45W/EA)
Instant On/Off, No Warm-Up
50,000 Hrs. Lifespan Including Fan
3570 CSP LED Chip Reduces Thermal Resistance
Electroplated Base Material
High Definition Reflector for a Clear & Even Beam Pattern
IP67 Waterproof Rating
"ALL OTHERS" is 1 Pair ; "2017+ Super Duty" is 2 Pairs
Designed for: High Temperature, Temperature Shock, Vibration, UV, & Humidity
Color Temperature: 6500K (Pure White)
NOTE:
2017+ Ford Super-Duty includes 2 PAIRS of H13 headlights (4 Bulbs Total). 

INCLUDES
(2) F23 LED Headlights With Drivers & Plug (4 with 2017+ Super-Duty)
(4) Zip Ties

Instructions

Disclaimer: For Off-Road use only.  These lights  fail to conform with Federal Motor Vehicle Safety (FMVSS) Standard No. 108 "Lamps, Reflective Devices, and Associated Equipment." The bulbs exceed limitations on luminous flux set forth in the standard and may cause increased or excessive glare for oncoming drivers.
PRODUCT INSTRUCTION SHEET
---