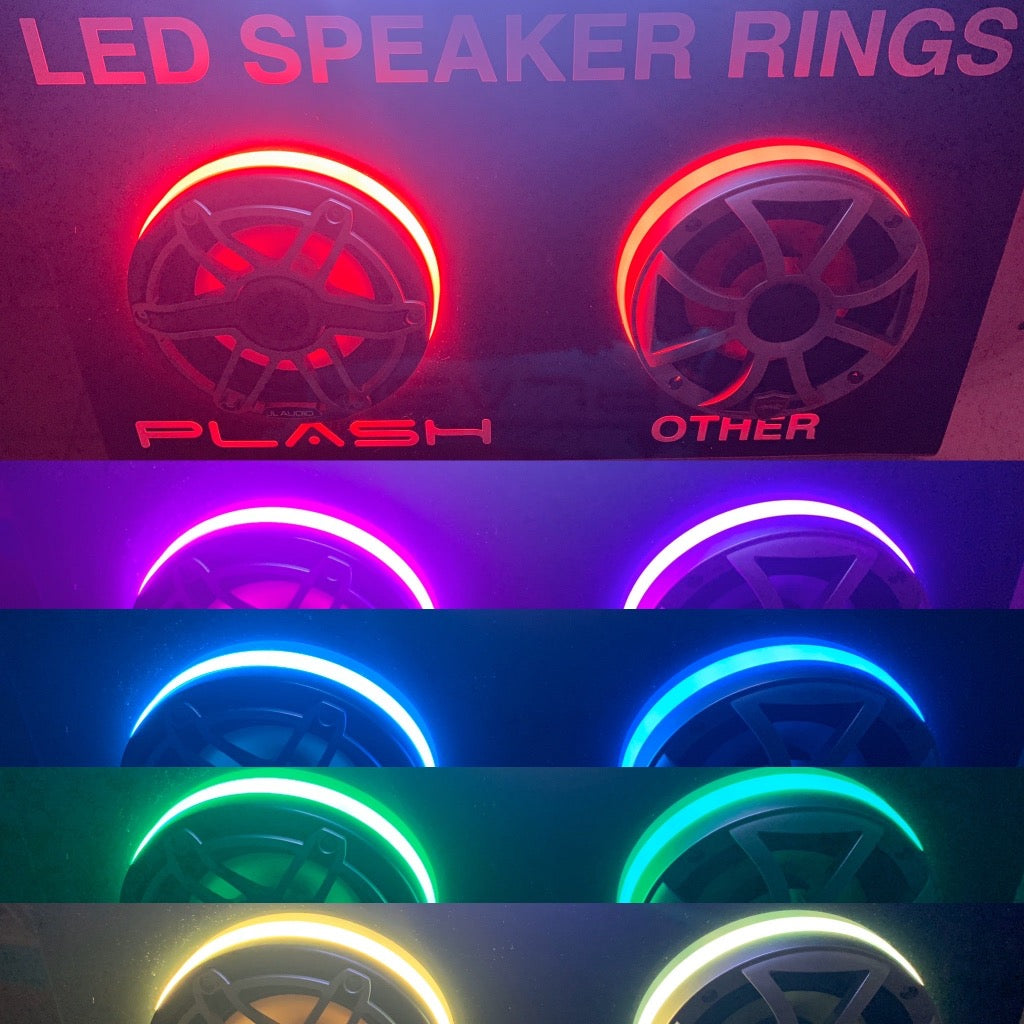 SKU: SPKR-KIT-JL-M6-650X
RGB MultiColor LED Speaker Rings - High Output
---
Say Goodbye to the "Dot, Dot, Dot" speaker rings of the past!  Our LED speaker rings are so bright that they are clearly visible in direct sunlight.
These rings are a pure white in color when not illuminated unlike some other companies clear or blue tinted rings. They will not fade, turn yellow, crack or corrode.  You will have to find another product to replace on your boat after this purchase as these are made to last and endure the elements.  As always, all PlashLights products carry our lifetime warranty... just in case.
Sold as a kit with:

Transparent Milky White Acrylic Speaker Ring(s) that create the perfect Glow
Speaker Rings are Ready to Mount (pre-drilled)
High Output Waterproof LED Strips in RGB
1ft Power Wire with Waterproof Connector + 1ft Pigtail
Hardware (Extended Stainless Steel Screws)
We only offer RGB.  If you want just a single color then just connect that single wire. (Example: If you want Blue Light; connect the black wire to your 12V power source and connect the blue wire to your ground.  The red and green wire would not be used)
FEATURES:

Continuous Glow, No Hotspots
High Quality / High Output LED's 
3 X LED's per Inch (unlike others that have 3 LED's every 2-1/2 inches)
Light Strips are pre-cut and sealed for each ring
Simple connection with waterproof disconnect
IP67 Rated = Waterproof 
Input: 12V DC
UV Rated Acrylic with a Polished Edge
Precision Machined
Made in the USA
Do NOT be Fooled by other Resin speaker rings.  Ours do not have the pixels (hot spots) and are much more visible in the sunlight.


SPECIFICATIONS:






NOTES:
JL Audio M3 Series and M6 Series are the same size, therefore accept the same speaker ring.

JL Audio M3/M6 Series is the replacement for the

discontinued

 M650 Series. They are different sizes.  The old M6 does not 

fit the

 new M650.

The same JL Audio speaker ring is used if the speaker is translucent (RGB lit) or not.

Coaxial speakers are sold as a PAIR.  Subwoofer speakers are sold INDIVIDUALLY.

Fusion, Kicker, JBL, Rockford Fosgate available upon request. Lead time may be 2-4 weeks. Other models can be made however a minimum order quantity may be required.  Please contact us.

Wetsounds rings WILL NOT work with Malibu Axis cans or any other can.

10" Wet Sounds "POWERED SUB" only fits  Wet Sounds 10" Powered Sub
---